ULTRASONIC WELDING
Handheld Ultrasonic Welder
Covonics ultrasonic handgun
is designed ergonomically, small and light.
This ultrasonic handgun is widely used for spot welding and staking for acoustic material applications. Model line up by function and shape of application
1) stick, 2) gun, 3) cooling HGC
Internalization of System Protection Monitoring (SPM)
1) Phase Changing 2) Over Voltage
3) Over Current 4) Heating Overload
5) Power Overload
Maintains converter amplitude by regulating for variances in the line voltages and Maintains converter amplitude over the full range of rated power.
Autotune and Frequency Memory
Automatically adjust frequency within error range for each frequency.
Updates horn frequency memory at the end of each weld and memory frequency can be reset by external reset.
Covonics ultrasonic handgun is designed ergonomically
1) Grips without fatigue even during long hours of work
2) Trigger switch that operates under appropriate force
3) Cable with excellent wear resistance and anti-twist
An audible buzzer informs the operator that the cycle has been completed.
Bar graph on Front panel- During a weld cycle, shows the true percentage of ultrasonic power in use.
Adjustable amplitude by 1% unit, 50 ~ 100%
Adjustable welding time by 0.1sec. unit, 0.1 ~ 9.9 sec.
Track Horn frequency at low amplitude and store in memory
Non-volatile storage of welding parameter
Non-volatile storage of welding parameter
Provides interface signals for Automatic product line
1) weld on - Digital output
2) External Run - Digital input
3) External Amplitude Control
- Analog input
4) Cooling air sol. External output
(HGC type)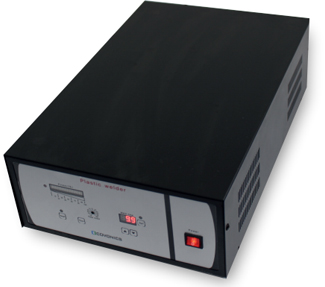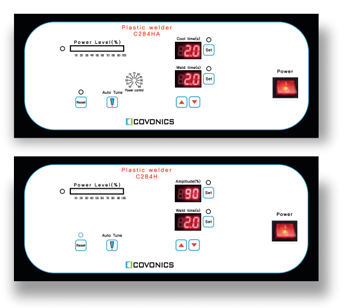 Frequency
28kHz
35kHz
Power output
400W
800W
Weight
13amps
Size
305mm * 145mm * 470mm
1.스틱(stick) HS 시리즈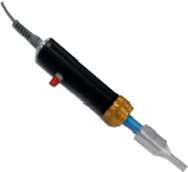 2.건(gun) HG 시리즈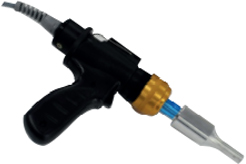 3.냉각형(cooling)
HGC 시리즈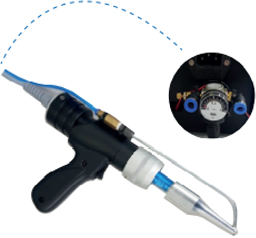 Power supply
C284H 28kHz 400W
C284HA 28kHz 400W
쿨링내장 건 타입
C358H 35kHz 800W
C358HA 35kHz 800W
쿨링내장 건 타입
Tool with cable
C28HS 28kHz 스틱 타입
C28HG 28kHz 건 타입
C28HR 28kHz 로보트 타입
C28HG 28kHz
쿨링 내장 건 타입
C35HS 35kHz 스틱 타입
C35HG 35kHz 건 타입