ULTRASONIC WELDING
Power Supply for Automation
The ultrasonic generator, A series of Covonics,
is designed with PLL circuit that enables digital tuning and digital amplitude control on the front panel. This is used for continuous operations and automation production line.
Internalization of System Protection
Monitoring (SPM)
1) Phase Changing 2) Over Voltage
3) Over Current 4) Heating Overload
5) Power Overload
Maintains converter amplitude by regulating for variances in the line voltages and Maintains converter amplitude over the full range of rated power.
Autotune and Frequency Memory
Automatically adjust frequency within error range for each frequency.
Updates horn frequency memory at the end of each weld and memory frequency can be reset by external reset.
Selectable ramp up time to reach the max amplitude
Provides four starting ranges. Select Start allows the Power Supply to ramp up amplitude at different rates to accommodate different horn and load requirements. 10, 30, 80, 100 ms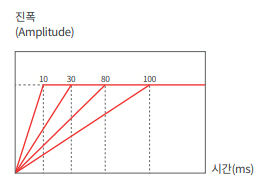 Bar graph on Front panel- During a weld cycle, shows the true percentage of ultrasonic power in use.
1) Front Panel 2) External Source
Track Horn frequency at low amplitude and store in memory
1) Seek on power-up
2) External Control
3) Seek by "Test" key on Front panel
4) Checks horn frequency once each minute
RF Switching for Multi Ultrasonic System ( 1 power supply with multi stacks )
1) Reset - reset the stored frequency
2) Seek - Tracks and starts the horn on the correct frequency
3) Run - Ultrasonic ON
Provides interface signals for Automatic product line
1) Weld on - Digital output
2) Alarm out - Digital output
3) External Run - Digital input
4) External Reset / External Seek
- Digital input
5) External Amplitude Control
- Analog input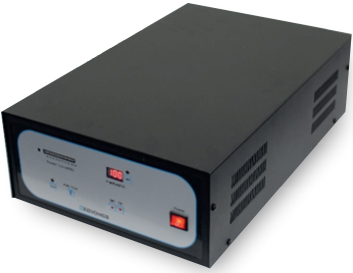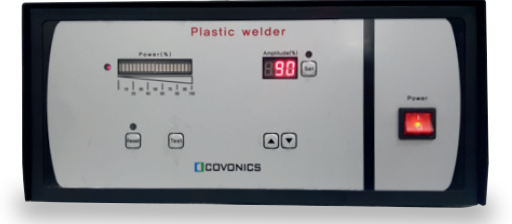 Frequency
20kHz
30kHz
35kHz
40kHz
Power output
2000W
1500W
1500W
800W
Max.current
13amps
20amps
20amps
10amps
Line voltage
200~240V AC 50/60Hz, 1Ø
Wdight
7Kg
Size
305mm * 145mm * 470mm
Power supply
C20A10 20kHz 1000W
C20A20 20kHz 2000W
C30A15 30kHz 1500W
C35A15 35kHz 1500W
C40A08 40kHz 800W
C40Ab08 40kHz 800W
Cable
Start cable
RF cable (BNC)
RF cable (MS)
I/O cable(D-sub 9)
I/O cable(D-sub 24)
Converter
CM20 20kHz (MS contact)
CB20 20kHz (BNC contact)
CJ20 20kHz (ball contact)
CM30 30kHz (MS contact)
CB30 30kHz (BNC contact)
CM35 35kHz (MS contact)
CB35 35kHz (BNC contact)
CM40 40kHz (MS contact)
CB40 40kHz (BNC contact)
| | 20kHz | 30kHz | 35kHz | 40kHz |
| --- | --- | --- | --- | --- |
| Al 1:0.6 | Ο | - | - | Ο |
| Al 1:1 | Ο | - | - | Ο |
| Al 1:1.5 | Ο | - | - | Ο |
| Al 1:2 | Ο | - | - | Ο |
| Ti 1:1 | Ο | Ο | Ο | Ο |
| Ti 1:1.5 | Ο | Ο | Ο | Ο |
| Ti 1:2 | Ο | Ο | Ο | Ο |